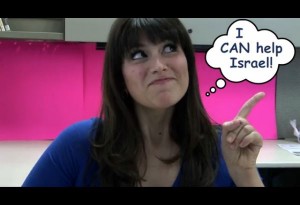 If you're anything like me, you watch the news and want to jump into action. What can I do? How can I help? Well you CAN help and here's how: Give your time, prayers, money or all 3!
Give Your Time
Get Beyond the Choir: take 30 minutes a day to comment under articles and reply to friends online. Don't have time to research? We did it for you. I have worked with others to create these concise talking points with supporting materials. We are always updating this site – save time, be effective!
Tweet for Israel: Want to tweet for Israel, but don't have time to compose tweets? Visit this stream of pro-Israel tweets and simply click the "retweet" symbol. Tweets only live 10 minutes, you can tweet often and repeat yourself.
Follow and share the posts of: IsraelUnderFire (@IsraelUnderFire), StandWithUs (@StandWithUs), FIDF (@FollowFIDF), and IDF Spokesperson (@IDFspokesperson). Follow trustworthy news sources. Get the word out.
Use these hashtags in your posts for maximum visibility: #IsraelUnderFire, #ProtectiveEdge, #KidsAreNotTargets, #IDF, #HamasTerror, #FreeGazaFromHamas, #HumanShields, #IronyDome, #PrayForIsrael, #IsraelUnderAttack. Use these hashtags to reach the anti-Israel community: #GazaUnderFire, #AsymmetricWarfare, #PrayforGaza, #GazaUnderAttack.
Sign These Petitions
Give Your Prayers
Give Your Money
Donate to these Grassroots Efforts
Donate to these Important Organizations
StandWithUs – Creating an army of advocates, SWU is responsible for much of the powerful social media work you've been seeing online. Support this vital organization.
Magen David Adom – I am personally involved with this effort to donate an ambulance to Magen David Adom NOW. Help Israel save lives by strengthening our first responders.
One Family rehabilitates, reintegrates and rebuilds the lives of Israel's thousands of victims of terror attacks—those who have been bereaved, maimed, or suffer from post-trauma as a result of terror attacks.
We are one. Our unity is our superpower. Do your part, show your love!
Share This Post
Follow Me